Posts for category: Uncategorized
By Nashua Smile Makers
February 05, 2019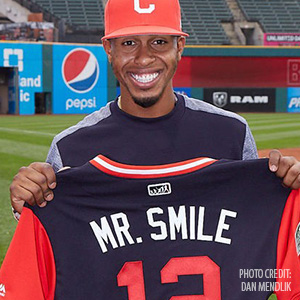 At the first-ever Players Weekend in August 2017, Major League Baseball players wore jerseys with their nicknames on the back. One player — Cleveland Indians shortstop, Francisco Lindor — picked the perfect moniker to express his cheerful, fun-loving nature: "Mr. Smile." And Lindor gave fans plenty to smile about when he belted a 2-run homer into the stands while wearing his new jersey!
Lindor has explained that he believes smiling is an important part of connecting with fans and teammates alike: "I've never been a fan of the guy that makes a great play and then acts like he's done it 10,000 times — smile, man! We've got to enjoy the game."
We think Lindor is right: Smiling is a great way to generate good will. And it feels great too… as long as you have a smile that's healthy, and that looks as good as you want it to. But what if you don't? Here are some things we can do at the dental office to help you enjoy smiling again:
Routine Professional Cleanings & Exams. This is a great place to start on the road toward a healthy, beautiful smile. Even if you are conscientious about brushing and flossing at home, you won't be able to remove all of the disease-causing dental plaque that can hide beneath the gum line, especially if it has hardened into tartar, but we can do it easily in the office. Then, after a thorough dental exam, we can identify any problems that may be affecting your ability to smile freely, such as tooth decay, gum disease, or cosmetic dental issues.
Cosmetic Dental Treatments. If your oral health is good but your smile is not as bright as you'd like it to be, we can discuss a number of cosmetic dental treatments that can help. These range from conservative procedures such as professional teeth whitening and bonding to more dramatic procedures like porcelain veneers or crowns.
Tooth Replacement. Many people hide their smiles because they are embarrassed by a gap from a missing tooth. That's a shame, because there are several excellent tooth-replacement options in a variety of price ranges. These include partial and full dentures, bridgework, and dental implants. So don't let a missing tooth stop you from being Mr. (or Ms.) Smile!
If you'd like more information about oral health or cosmetic dentistry, please contact us or schedule an appointment for a consultation. You can also learn more by reading the Dear Doctor magazine articles "Beautiful Smiles by Design" and "The Impact of a Smile Makeover."
By Nashua Smile Makers
November 21, 2014
Nashua Smile Makers take pride in serving New Hampshire's dentistry needs, which is why we love keeping you informed about advancements in cosmetic dentistry and sharing the stories of people whose lives have been improved because of it.
For someone looking to enhance his or her smile, the amount of information out there on cosmetic dentistry can seem overwhelming or confusing. It doesn't have to be that way. Whether you're looking for how to improve your dental hygiene, tips for a whiter smile, options for repairing damaged teeth or what to avoid in order to protect your teeth from damage, you shouldn't have to spend a lot of time searching for an expert's opinion.
We're constantly writing and sharing information about cosmetic dentistry, so you can easily find the information you're looking for. We do our best to answer questions you have about things like tooth decay, dental veneers, jaw pain and mouth health, and you can find our updates on our website, as well as on our social media accounts on Twitter and Facebook.
You can never know too much about how to properly care for your teeth, and we want to make it easy for you to access this information. You don't have to do much: Keep up with us on Twitter and Facebook, and you'll learn plenty about how to enhance your smile.
We want to hear from you, too. What would you like to learn about dental health? Is there a dental procedure you're interested in knowing more about? Tell us what you'd like to read, because we want to share it. More than anything, we're happy to have a conversation with you about the power of cosmetic dentistry, how it can benefit your life and ways you can find the perfect solutions to your dental needs.
Take a look at @SGuerrieroDMD on Twitter and Nashua Smile Makers on Facebook. We're dedicated to serving Nashua's dentistry needs, and that means connecting with you on your favorite networks. Are you interested in learning more about how dental work can make you happier? Join the social conversation and tell us what you'd like to know.
Whether you are an existing patient or searching for a dentist in the Nashua, NH area, we're excited you are here. With the dental industry advancing, we recognize the importance of keeping our patients and visitors up to date with all of the new and exciting things taking place in our practice.
As we move forward with our blog, we hope to promote dental awareness as a vital part of your healthy lifestyle. Here you will find a variety of articles and topics including dental news, advancements in dental technology and treatment, practical dental health advice and updates from Dr. Salvatore Guerriero and his staff.
We hope you find our blog to be helpful, engaging and informational to ensure your best dental health.
As always, feel free to contact us with any dental questions or concerns.
--Dr. Salvatore Guerriero