Posts for tag: root canal treatment
By Nashua Smile Makers
April 20, 2022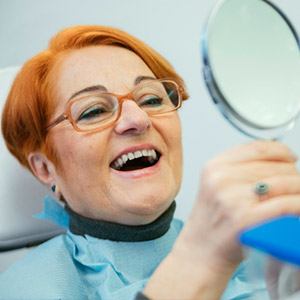 Just a century ago a heavily decayed tooth was most likely a goner, but that all changed in the early 1900s when various treatments finally coalesced into what we now call root canal therapy. The odds have now flip-flopped—you're more likely to preserve a decayed tooth than to lose it.
By decay, we're not referring only to cavities in a tooth's enamel or outer dentin. That's just the start—decay can quickly spread deeper into the dentin close to the pulp, the central portion of a tooth containing bundles of nerves and blood vessels. It can then move into the tooth's pulp chamber, causing the pulp to die and producing infection that will eventually infect the surrounding supporting bone.
Root canal treatments are often a lifeline to a tooth in this perilous condition. After numbing the tooth and surrounding tissues with local anesthesia, we start the procedure by drilling a tiny hole to access the central pulp and root canals. We then use specialized tools to remove all of the infected tissue within these interior spaces.
After thoroughly disinfecting the tooth of any decay, we shape up the root canals for filling. We then inject a rubbery substance known as gutta percha and completely fill the tooth's resulting empty spaces. This filling helps to prevent a recurrence of infection within the tooth.
Once we've filled the tooth, we seal off the access hole to complete the procedure. You may experience a few days of mild discomfort, but it's usually manageable with over-the-counter pain relievers. Later, we'll cement a crown over the tooth: This provides additional protection against infection, as well as adds support to the tooth structure.
One more thing! You may have encountered the notion that undergoing a root canal is painful. We're here to dispel that once and for all—dentists take great care to ensure the tooth and the area around it are completely dead to pain. In fact, if you were experiencing a toothache beforehand, a root canal will alleviate the pain.
To get the best treatment outcome for tooth decay, it's important to uncover it as soon as possible. The earlier we begin treatment, the more likely we can bring your tooth back to good health.
If you would like more information on root canal treatment, please contact us or schedule an appointment for a consultation. You can also learn more about this topic by reading the Dear Doctor magazine article "A Step-By-Step Guide to Root Canal Treatment."