Posts for tag: palatal expanders
By Nashua Smile Makers
January 30, 2014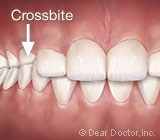 There's more to orthodontics than simply moving teeth. Especially with children and adolescents, we also want to guide the development of the entire facial structure to solve certain types of malocclusions (poor bites).
One such concern involves the upper jaw and palate (roof of the mouth), known collectively as the maxilla. In some individuals, the maxilla is narrower than normal. This causes the upper teeth to fit abnormally inside the lower teeth when occluding or "biting down" and is known as a cross-bite. A cross-bite may restrict the amount of space for your teeth to erupt (appear in the mouth) in proper alignment. It can be so severe the individual may have to shift the jaw to one side to completely bite down.
If a cross-bite is caught early, there's a non-surgical treatment to widen the maxilla and help prevent upper teeth misalignment. But there's a limited time window of opportunity: this is because the maxilla is actually formed by two bones with a seam that runs down the middle of the palate. The two bones will eventually fuse, usually at the beginning of puberty; until then there's a slight separation.
Before the bones fuse, we can use a palatal expander to widen this seam and encourage permanent bone growth in the resulting gap. The expander is made of two metal halves joined in the middle by a small screw device that fits between the teeth. You or your child turns the screw a very small amount once or twice a day with a special key and the action pushes the maxilla outward on either side: the slight tension created stimulates bone growth. Over time, the new bone will have added width to the maxilla and eliminated the cross-bite.
While it's possible to correct this after the maxilla fuses, it will require surgery to separate the bones. The palatal expander helps us correct the problem in the most non-invasive way possible, but it must be done before puberty. Discovering this type of malocclusion early is one of many reasons why regular dental visits should be an important part of your child's healthcare.
If you would like more information on palatal extenders, please contact us or schedule an appointment for a consultation. You can also learn more about this topic by reading the Dear Doctor magazine article "Palatal Expanders."
By Nashua Smile Makers
December 06, 2013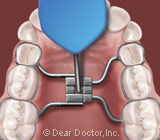 Have you heard of palatal expanders? If your child needs orthodontic work, then you ought to hear about them! These small appliances offer plenty of advantages to kids whose smiles, due to a variety of problems, may need some help. Here are five things you should know:
1. Palatal expanders are small orthodontic appliances that fit inside the mouth.
Custom-fabricated for each child, these devices are placed near the roof of the mouth, in between the two rows of upper teeth. They consist of two small metal brackets with a tensioning system that can be adjusted by a tiny key. Not everyone needs one, but they can really benefit kids with certain orthodontic conditions.
2. Palatal expanders take advantage of a child's natural growth processes.
That's part of the reason they work so well. Since the bones of a child's upper jaw don't fuse together until sometime after puberty, it's relatively easy to move them apart before that time. The palatal expander applies gentle pressure to gradually move the left and right halves of the upper jaw apart, over a period of a few months. Then it's left on several weeks longer, allowing new bone to fill in and stabilize the expansion.
3. Palatal expanders are helpful in treating a variety of orthodontic problems.
Crowding — that is, not having enough space in the jaw to accommodate all of the teeth — is one major issue. A related issue is impacted teeth: These are teeth that are blocked from coming in (erupting) by other teeth or jaw structures. A third issue is crossbite: That's when the back top teeth come down to bite inside, rather than outside, the bottom teeth. Gaining additional space in the upper jaw can help relieve all of these problems.
4. Palatal expanders can eliminate the need for tooth extraction.
Once upon a time, extraction was the only way to solve these problems. However it's an invasive (and potentially complex) procedure. A palatal expander can often provide the same — or better — results, via a noninvasive method.
5. Palatal expanders typically shorten overall orthodontic treatment time.
They're generally worn for a total of three to six months, but they can considerably shorten a child's overall orthodontic treatment time. Plus, they're invisible — a big plus to image-conscious teens. Could they benefit your child?
If you have questions about palatal expanders, please contact us or schedule an appointment for a consultation. You can learn more in the Dear Doctor magazine articles "Palatal Expanders" and "The Magic of Orthodontics."