Posts for tag: nutrition
By Nashua Smile Makers
August 04, 2019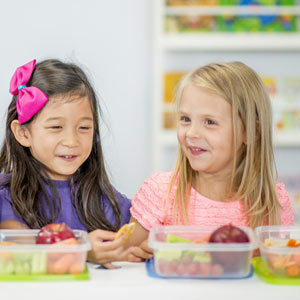 With summer winding down, parents are turning their attention to their kids' upcoming school year. August is often a busy time for families rushing to buy school supplies and fresh sets of clothes and shoes. Although hectic, these last few weeks before school starts are also ideal for focusing on dental health.
As you prepare for the school year, be sure to include these dental health items on your to-do list.
Make a dental appointment. Start the school year off right with a dental cleaning and checkup. Along with daily hygiene, dental visits are key to disease prevention and optimal oral health. Make those appointments early, though: Most dentists report an upsurge in patient visits this time of year.
And if you haven't already, set up an orthodontic evaluation: Having an orthodontist examine your child around age 6 could uncover an emerging bite problem. Early intervention might prevent the need for more costly future orthodontic treatments.
Plan for healthy school snacking. While kids are home on summer break, it's probably easier to keep an eye on the quality of their snacks. But being away from your watchful gaze at school means your children may encounter snacks that are not quite up to your tooth-healthy standards.
Even though schools adhere to federal nutrition standards for food provided on school property, many dentists don't believe they go far enough. Your kids' classmates can also be a source of unhealthy snack choices, so plan ahead to provide your kids an array of snacks to carry to school that they like and that support healthy teeth and a healthy body.
Get a custom mouthguard for your student athlete. If your child is going to play football, basketball or some other contact sport, make sure they have dental protection. A hard impact to the face can cause significant dental damage that's costly to treat, but a mouthguard worn during play can protect the teeth and gums by cushioning the blow.
You can purchase retail mouthguards at your local sporting goods store. Your best option, though, is a mouthguard custom-made by your dentist based on your child's individual mouth measurements. Although more expensive, custom mouthguards offer superior protection, and they're more comfortable to wear.
When the school bell rings, you want your kids as prepared as possible. Make sure their teeth and gums are ready too. If you would like more information about best practices for your child's dental care, please contact us or schedule an appointment for a consultation. To learn more, read the Dear Doctor magazine articles "Snacking at School" and "Athletic Mouthguards."
By Nashua Smile Makers
February 02, 2016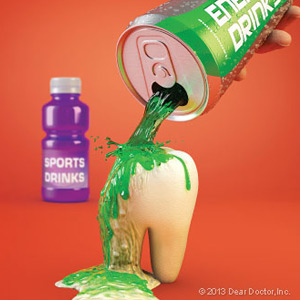 Sports drinks have been widely touted as an ideal way to replenish carbohydrates, electrolytes and, of course, fluids after a strenuous event or workout. But the mixtures of many popular brands often contain acid and added sugar, similar to other types of soft drinks. This can create an acidic environment in the mouth that can be damaging to tooth enamel.
Of course, the best way to replenish fluids after most strenuous activities is nature's hydrator, water. If, however, you or a family member does drink the occasional sports beverage, you can help reduce the acid impact and help protect tooth enamel by following these 3 tips.
Avoid sipping a sports drink over long periods. Sipping on a drink constantly for hours interferes with saliva, the bodily fluid responsible for neutralizing mouth acid. But because the process can take thirty minutes to an hour to bring the mouth to a normal pH, saliva may not be able to complete neutralization because of the constant presence of acid caused by sipping. It's best then to limit sports drinks to set periods or preferably during mealtimes.
Rinse your mouth out with water after drinking.  Enamel damage occurs after extended periods of exposure to acid. Rinsing your mouth out immediately after consuming a sports drink will wash away a good amount of any remaining acid and help normalize your mouth's pH level. And since water has a neutral pH, it won't add to the acid levels.
Wait an hour to brush after eating. As mentioned before, saliva takes time to neutralize mouth acid. Even in that short period of time, though, acid can soften some of the mineral content in enamel. If you brush during this "soft" period, you may inadvertently brush away some of the minerals. By waiting an hour, you give saliva time not only to neutralize acid but also restore mineral strength to the enamel.
If you would like more information on sports and energy drinks and their effect on dental health, please contact us or schedule an appointment for a consultation. You can also learn more about this topic by reading the Dear Doctor magazine article "Think Before you Drink."
By Nashua Smile Makers
July 15, 2014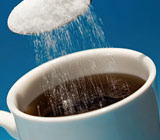 We've all heard about potentially negative health effects from the sugar that's added to many of our favorite foods. So these days, lots of us are trying to cut down on our consumption of sugar — not only to lose weight, but also to help prevent maladies like diabetes and heart disease. We can't help noticing those pastel-colored packets — pink, yellow and blue — on the rack of our favorite coffee shop. But now we're wondering: Are those sugar substitutes a good alternative to natural sugar? And which one should we choose?
Artificial sweeteners have been around for decades. Six different types (including the ones in the colorful packets) are currently approved as safe by the Food and Drug Administration; a couple of older ones (notably cyclamates) have been banned for many years. In addition to those zero-calorie sugar substitutes, low-calorie sweeteners called sugar alcohols (for example, mannitol and xylitol) are often used as food ingredients. So what's the difference between them — and which one is best?
That's not so easy to answer. If you have a rare genetic condition called phenylketonuria, you should avoid aspartame (the blue packet), because your body can't process the substance. Otherwise, the choice may come down to a matter of taste. Even though they are FDA-approved, some controversy (both fact-based and far-fetched) remains about the long-term safety of sugar substitutes, and their usefulness in preventing obesity and other diseases.
Yet it's clear that for some people, the consequences of consuming too much sugar could be much worse. So if you're at risk for diabetes or certain other diseases, sugar substitutes can be an important tool in maintaining a healthier diet. They also have another health benefit: sugar substitutes don't cause cavities. Further, some sugar alcohols (xylitol in particular) have the property of stimulating saliva flow, and have been shown to actually impede the formation of cavities. Oral health is an important (if sometimes overlooked) component of your general well-being, and several studies have pointed to a link between oral and systemic diseases — for example, diabetes and heart disease.
As with so many aspects of our health, there seems to be no "magic bullet" to cure all our diet-related problems. But used in moderation, artificial sweeteners can be a valuable part of the effort to improve our overall health and well-being. For more information on this topic, see the Dear Doctor article "Artificial Sweeteners."