By Nashua Smile Makers
March 11, 2022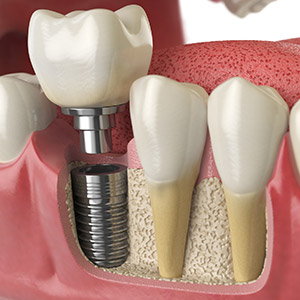 Dental implants have taken restorative dentistry by storm for a number of reasons: They're incredibly life-like; and their unique design allows them to function much like natural teeth. But perhaps the clincher for many is their longevity. Numerous studies show that more than 95% percent of implants are still performing after 10 years.
The reason for their durability is wrapped up in their "unique design" mentioned earlier—a titanium metal post imbedded into the jawbone, to which a dentist attaches the visible crown. The titanium attracts the growth of new bone cells, which adhere and accumulate on the implant surface.
This "integration," a process which occurs over a few weeks after implantation, creates a strong bond between the implant and jawbone. This ultra-strong hold enables the implant to withstand years, if not decades, of chewing forces you generate on a daily basis.
With that said, though, there are rare instances when an implant loses its hold—or doesn't properly develop it. Integration may not fully succeed due to infection either before or right after surgery, which can inhibit bone growth around the implant.
Other conditions can compromise the bone's integrity like a weakened immune system, diabetes or osteoporosis. And even if integration occurs normally, later problems like gum disease or a teeth-grinding habit can damage the connection between implant and bone.
There are things you can do, however, to further minimize the risk of implant failure.
Brush and floss daily (especially around implants) and maintain regular dental visits to lower your risk of gum disease;
See your dentist if you notice swollen, reddened or bleeding gums, an indication of a gum infection that could impact your implants;
Stop smoking, which increases your infection risk, or abstain a few weeks before and after surgery;
Manage issues like diabetes, osteoporosis, or teeth-grinding that could affect your implants.
Implants can be a great long-term solution to tooth loss. You can help ensure their longevity by looking out for both your oral and general health.
If you would like more information on dental implant restorations, please contact us or schedule an appointment for a consultation. You can also learn more about this topic by reading the Dear Doctor magazine article "Dental Implants: A Tooth-Replacement Method That Rarely Fails."