By Nashua Smile Makers
June 09, 2022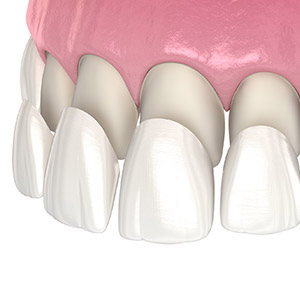 It doesn't take much—some staining, a chipped tooth or a slight gap—for you to lose confidence in your smile. But you may be able to regain your smile confidence with porcelain veneers.
A veneer is a thin, tooth-colored shell of dental porcelain that we bond to the face of a tooth. As the name implies, a veneer covers mild to moderate imperfections in such a life-like fashion that it's difficult to tell a veneered tooth from a natural one.
Although veneers can't correct every dental appearance problem, they do have a wide range. Here are 4 situations where veneers could be a great choice for improving your smile.
Discoloration. People often turn to teeth whitening to help brighten dull or dingy teeth. But this technique may not work as well with heavy staining, or not at all if the discoloration originates from inside of a tooth. Veneers offer a permanent solution for heavily stained or discolored teeth.
Shaping and size. Teeth look best when they're in proper proportion to other oral or facial features. But congenitally small or odd-shaped teeth, as well as inordinate tooth wearing, could cause your smile to look out of place. Veneers can improve the appearance of small or worn teeth and restore proper balance to your smile.
Dental defects. Teeth with chips, craze lines (vertical cracks) or other dental flaws can distract from your smile. As with discoloration, veneers can mask mild to moderate dental flaws and restore teeth to their beautiful perfection.
Misalignments. We often correct bite misalignments that affect appearance with braces or clear aligners. But if it's a mild orthodontic problem like a slight tooth gap between the front teeth or a slight rotation, it's often possible to cover the misalignment with the help of dental veneers.
So, could veneers make a difference in your smile? There's only one way to find out—see your dentist for a complete dental assessment. Depending on the nature of the problems disrupting your appearance, veneers could be a great way to transform your smile.
If you would like more information on porcelain veneers, please contact us or schedule an appointment for a consultation. You can also learn more about this topic by reading the Dear Doctor magazine article "Porcelain Veneers."