Posts for: January, 2019
By Nashua Smile Makers
January 16, 2019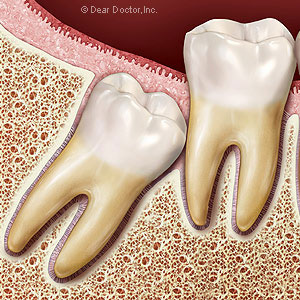 As permanent teeth gradually replace primary ("baby") teeth, most will come in by early adolescence. But the back third molars—the wisdom teeth—are often the last to the party, usually erupting between ages 18 and 24, and the source of possible problems.
This is because the wisdom teeth often erupt on an already crowded jaw populated by other teeth. As a result, they can be impacted, meaning they may erupt partially or not at all and remain largely below the gum surface.
An impacted tooth can impinge on its neighboring teeth and damage their roots or disrupt their protective gum attachment, all of which makes them more susceptible to tooth decay or periodontal (gum) disease. Impacted teeth can also foster the formation of infected cysts that create areas of bone loss or painful infections in the gums of other teeth.
Even when symptoms like these aren't present, many dentists recommend removing the wisdom teeth as a preemptive measure against future problems or disease. This often requires a surgical extraction: in fact, wisdom teeth removal is the most common oral surgical procedure.
But now there's a growing consensus among dentists that removing or not removing wisdom teeth should depend on an individual's unique circumstances. Patients who are having adverse oral health effects from impacted wisdom teeth should consider removing them, especially if they've already encountered dental disease. But the extraction decision isn't as easy for patients with no current signs of either impaction or disease. That doesn't mean their situation won't change in the future.
One way to manage all these potentialities is a strategy called active surveillance. With this approach, patient and dentist keep a close eye on wisdom teeth development and possible signs of impaction or disease. Most dentists recommend carefully examining the wisdom teeth (including diagnostic x-rays and other imaging) every 24 months.
Following this strategy doesn't mean the patient won't eventually have their wisdom teeth removed, but not until there are clearer signs of trouble. But whatever the outcome might be, dealing properly with wisdom teeth is a high priority for preventing future oral health problems.
If you would like more information on wisdom teeth and their potential impact on dental health, please contact us or schedule an appointment for a consultation. You can also learn more about this topic by reading the Dear Doctor magazine article "Wisdom Teeth: Coming of Age May Come with a Dilemma."
By Nashua Smile Makers
January 06, 2019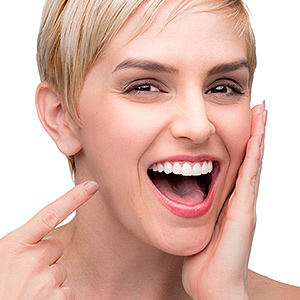 Those unattractive teeth you see in the mirror are what are standing between you and a truly beautiful smile. If only you could make them go away.
In a way, you can do just that—with dental veneers. For the past three decades dentists have been covering the imperfections of problem teeth with these thin layers of porcelain. What's more, they're usually less involved and expensive than other restorations.
Veneers work best on teeth with moderate flaws like chipping, heavy staining or wearing, or slight misalignments like crookedness or gaps. The dental porcelain used is a ceramic material that so closely mimics the color and translucence of natural teeth it often takes a trained eye to notice any difference.
The first step to getting veneers is to plan your new look with a full examination and a diagnostic mock-up, a temporary application of tooth-colored filling materials applied directly to the teeth. This gives you and your dentist a better visual idea of how veneers will look on your teeth, and to make any adjustments ahead of time. A dental lab will use these findings to create your custom veneers.
In the meantime we'll prepare your teeth to accommodate your veneers. Although they're usually only 0.3 to 0.7 millimeters thick, veneers can still appear bulky when placed straight on the teeth. To adjust for their width we usually must remove some of the teeth's surface enamel so the veneers look more natural. Because enamel can't be replaced, the removal permanently alters the teeth and will require some form of restoration from then on.
When the veneers are ready we'll attach them with special cement so they'll form an almost seamless bond with the teeth. You'll then be able to use them just as before—but with a little caution. Although quite durable, veneers can break under too much force, so avoid biting on hard objects like ice, hard candy or nuts. And be sure you practice good dental care on your veneered teeth with daily brushing and regular dental cleanings and checkups.
The end result, though, is well worth the upkeep. Porcelain veneers can rejuvenate your smile and provide you a new level of confidence for years to come.
If you would like more information on porcelain veneers, please contact us or schedule an appointment for a consultation. You can also learn more about this topic by reading the Dear Doctor magazine article "Porcelain Veneers: Your Smile—Better than Ever."