Posts for: June, 2014
By Nashua Smile Makers
June 11, 2014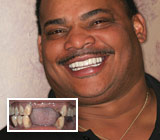 This is the story of a well-known man, fearless in most respects, who was afraid of the dentist. Even though his fears had resulted in neglect and serious damage to his teeth, modern dentistry and a talented dental team were able to restore his smile to health. If you share this fear, his story may inspire you to take action.
We're talking about William Perry, former defensive lineman and fullback for the Chicago Bears. Here is a man who could fearlessly face a football squad — but not a visit to the dentist. Nicknamed "The Refrigerator" for his 380-pound massive frame, Perry played for ten years in the NFL before retiring in 1994. Since retiring he founded and operated a construction company in South Carolina in addition to making celebrity appearances.
With his celebrity in mind, a team composed of a talented restorative dentist, implant surgeon, and lab technician agreed to give "The Fridge" a makeover. After discussing modern technology and virtually pain-free dentistry with him, they managed to overcome Perry's fears. "I had been in constant pain for many years and I neglected myself, not having had any dental care for over 20 years, not even emergency care. Unfortunately, as I grew older my teeth started to get loose," Perry told an interviewer. He had lost many teeth and became known for his gap-toothed smile.
Perry had severe gum disease and many of his remaining teeth were loose. In the past his only option would have been a full set of dentures. But his new dental team was able to place dental implants (permanent tooth replacements) supporting fixed bridges. In most cases dental bridges are attached to healthy teeth, but in Perry's case the implants served as anchors for the bridges. They also stabilized his jawbone, which would otherwise "resorb" or melt away after his teeth were lost. This is important because it helps preserve the contours of his face.
After careful planning "The Fridge" had eight dental implants placed in his upper jaw and seven in his lower. The final bridgework was completed four months later. It turned out that even though the gap between his teeth had become his trademark, "the Fridge" never really liked it. He was thrilled with his new smile.
Even if you have some fears, don't hesitate to follow Perry's example and make an appointment with us for a consultation about dental implants, smile makeovers, or bridgework. For more information about William "The Refrigerator" Perry, see the Dear Doctor magazine article "How Immediate Implants Saved 'Refrigerator' Perry's Smile."
By Nashua Smile Makers
June 10, 2014
Are you looking to improve the appearance of your teeth, mouth and smile? If so,
cosmetic dentistry
can address your desired needs. With advances in technology, natural-looking, tooth-colored dental materials make today's cosmetic dental treatments more durable and predictable than in the past years. You may even decide to have your older fillings replaced with newer, tooth-colored fillings in order to enhance your smile. In addition to the close attention of our Nashua dentist to the appearance of your dental work, cosmetic dentistry includes all of the fundamental requirements to proper dental care.
What is Cosmetic Dentistry?
Cosmetic dentistry is all about improving your smile. Everyone is unique in some way, but the defining feature of your smile is what unites us all. Looking and feeling good do not have to be about counting calories or changing your wardrobe. Cosmetic dentistry can give you the smile you have always been looking for so that you can feel great about the way that you look.
There are several different choices to enhance your smile through cosmetic dentistry, including:
All of these procedures allow you to achieve the smile that you have always desired. Each treatment is designed to improve the appearance of your teeth, leaving you with a good reason to smile. Cosmetic dentistry offers an array of safe and transforming options for people who are unhappy with their smile. If you are one of the many people that are unhappy with your smile, you are encouraged to visit your local Towson cosmetic dentist for further consultation.
Whiten your Smile through Cosmetic Dentistry in Nashua
There is a wide range of individuals who whiten their teeth in order to brighten their discolored smile. Common among smokers, stained teeth are also common for those who consume beverages such as coffee, tea, or red wine. Teeth-whitening, depending on the method you choose, can be completed in a single appointment or up to two weeks. Our Nashua dentist will offer chair-side treatments, such as laser whitening – a powerful and fast-acting in-office whitening solution. You may also be able to get at-home-treatment from your dentist as well. This will allow you to whiten your teeth in the comfort of your own home, but with supervision from your dentist to achieve a successful whitening experience.
Achieve a Hollywood Smile with Veneers
Porcelain veneers are thin laminates or shells that are approximately the same thickness as a contact lens. The thinness of the veneer allows for accurate alterations without feeling the difference. Fitted to the front surface of your existing teeth, your dentist will create a uniform look by disguising stained, damaged, or crooked teeth. Veneers can also cover up small gaps between your teeth, by closing them. Veneers can be completed quickly and are both aesthetically pleasing and physically durable, which maintains their look and feel for a significant period of time. This procedure appears to be the most popular of cosmetic dentistry procedures.
Cosmetic dentistry offers a wide array of options for those who are not pleased with the look of their smile. If you are unhappy with the look of your teeth and are ashamed to smile, you are encouraged to visit our office in Nashua for cosmetic dentistry options and consultation. Your brighter, healthier smile is within reach.